Finding the right place to repair your iPhone can be difficult, especially if you do not want to take your iPhone to Apple stores and decide to use an iPhone repair shop. It might be difficult to trust to any iPhone repair shop. In this article, we will review the benefits of these stores vs. the Apple store.
These days for many people, the cell phone is like a beloved child who is unable to stay away from and their life is disrupted if it is ruined or damaged, especially for those who have to work constantly with a mobile phone because of their job and their responsibilities. 
This issue and the importance of mobile phones in our daily lives make people try to provide the best for their phones. For example, when their cell phone needs service repair, they always look for the best place to repair it. This article tries to show you the challenges of choosing a suitable place for iPhone service.
How can we trust an iPhone repair shop?
Location
The cost of shipping your iPhone can be unexpected for you. Indeed, the cost of shipping your mobile phone to an apple store may not be more than a few dollars, but it will take a lot of energy from you and make the process of repairing your phone more complicated. However, when you choose iPhone repair stores, the difficulty in the process will be reduced to the minimum. 
Repair time
When you use iPhone repair stores, the delivery time of the phone will be in a few hours and the maximum a day. Note that if you decide to ship your phone to other areas, you will have to wait several days and even a week for the phone to arrive if you don't have access to a local app store. In the iPhone repair service near me, you will get what you want in fewer hours because, despite the time required for repairing, transportation time is reduced too.
Acceptable quality in stores other than Apple
Many people think if they give their iPhone to iPhone repair shops other than Apple stores, the quality of work will be deficient, and they have taken a lot of risks; While in reality, this is not the case.
A few years ago, during a program, Apple invited interested parties, both as individuals and as a company and provider of iPhone repair services, to be trained in this course provided by Apple itself. So Apple officially and professionally taught these people how to do repairs and provided them with the necessary parts and tools. These parties and stores are officially certified by Apple and have an authorized repair certificate. Therefore, when you go to an iPhone repair shop near you, it is not much different from Apple services.
Definite price range
Another concern is the financial aspect of the story. People who have an Apple warranty should use Apple services as soon as possible because they have already paid for it, but those who do not have an Apple warranty and want to use nearby stores should not worry about the costs. Repairing in such iPhone repair stores is determined by Apple's price and does not exceed a certain limit, although there may be slight differences.
Using the services of these stores does not mean paying more, but if you do not have a warranty, even if you go to Apple itself, you have to pay more. For information on the cost of repairing the iPhone by Apple stores, you can visit the company's website and then compare its price with the price of the desired store.
Various services of shops near you
Some of the local iPhone repair shop near me and Internet service providers have innovated and given you more features than Apple itself. For example, it allows you to make repairs in your own home if needed and do not go to the store at all. This variety of services will cover a wide range of customer needs.
Note:

The above tips are advantages of

the iPhone repair shop near me

, but it does not mean that it is the best choice for you. Each person has to decide based on where they live, the type of iPhone, the warranty, the phone repair budget, and the amount of damage to the mobile phone.
Do we need to repair our cell phones?
This comes before choosing a suitable iPhone repair service near me for your phone because sometimes your phone may not need repair. In some cases, damage to the mobile phone will not affect its performance and will mostly affect its appearance, such as when the phone falls, and the screen on the back cracked. This usually does not affect the phone's performance, and even if you use protective cases, you will not most likely need to choose an iPhone service repair.
Buy Your Old or Broken phone | Sell Refurbished iPhone Fully functional with limited warranty
Should we consider our phone model in choosing an iPhone service repair center?
Yes, because your phone model is significant in the repair process and the iPhone service pricing. If your phone is an old model, due to the lack of parts in the market or the company's lack of support for the phone model, not all technicians will repair it. 
Even in some cases, an iPhone service center may only repair a particular brand, for example, only repair iPhones and do not specialize in Android phones or vice versa. For this reason, before deciding to go to the desired shop, be sure to call them and explain your situation.
Is it possible to trust nearby repair shops?
Trust is perhaps one of the most important things preventing you from choosing an iPhone service center near me. However, in many cases, this distrust is only due to the bitter experiences of a few who have not done the necessary research about the center before repairing their phone. If you do not read the user profile before visiting the site, you will not understand the level of service.
Today, thanks to the Internet, no truth can be hidden, and if there is a suspicious case, such as the misuse of user information or the use of non-original parts in iPad service near me, you will surely find traces of it on the Internet.
On the other hand, once we get trust, there is no need to worry because most of these centers have a formal certificate of repairing from the company itself or other relevant organizations.
What is the best way to find an iPhone service near me?
The best way is to ask friends and acquaintances who live near you because this way you become aware of their experience and make a good decision depending on it. However, if such an option is not available for you or you do not trust the suggestions of those around you, then the answer to your problem is on the Internet.
Today, with a simple search on the Internet, you will be able to find even the rarest things, let alone a suitable iPhone service repair. Internet search allows you to know the views of other users and get a lot of information about the level of quality in your desired center without visiting or making a call.
Phonebulance Fully Loaded Vans Come to You to Repair your Devices
iPhone service repair is one of the Phonebulance services. If you need this service, you can provide your contact information to connect with our team. Click here to book an appointment. And you can easily Check our reviews on Yelp.
You cannot leave your iPhone in the hands of people you do not know the quality of their work, and because of this matter, you always keep in mind the question of who fix iPhones in Orange County best. When you want to fix iPhones near me, there are two important questions in the area that we will address here. 
What factors should you consider when choosing stores that fix iPhones Near Me in Laguna Hills?
Due to the irreplaceable use of mobile phones in our lives and the dependence of work, education, and personal life on these smart devices. It would help if you found a place to fix iPhones near me in the shortest possible time at the most reasonable cost.
Many people may not have the opportunity to spend enough time to send their mobile phone to another city or district due to work concerns, and the most important factor for them is time. So when you ask who fix iPhones near me in Lake Forest,  the suggested repair team needs to have the necessary work experience to solve your problem in a few hours. Usually, the centers that receive high scores for repair on internet sites have a good speed of repairing and delivering the customers' phones to them within a few hours.
The next issue is location, which also has a big impact on repair time. The closer the repair center is to you, the better you can pick up your phone. Therefore, people may ask these questions: 
Who can fix a phone near me in Laguna Niguel?
Where can I find a phone fixing near me in Laguna Beach?
How can I find phone fixers near me in Dana Point?
Which service is the best to fix phones near me in San Juan Capistrano?
How can I fix iPhone near me in Aliso Viejo?
If you are asking one of the questions above, your answer is Phonebulance. 
Why should you trust Phonebulance?
Considering the two factors mentioned above, namely the issue of time and place, it can say that the best solution for you is Phonebulance.
This service center has enough experience in this field to fix iPhones near me. By reviewing the points and opinions of the users of this service center, you can be aware of their quality level and experience. Remember that the higher the user rating, the higher the accuracy of the center. Many sites advertise services to attract customers but do not do so, but the Phonebulance service center respects its customers and needs.
The speed of repairing to fix iPhones near me in Aliso Viejo is also remarkable, and the repairing process due to the amount of damage can be done even in less than an hour. Speed ​​of action is in the interest of both the customer and the repair center because the customer receives his mobile phone in a short time, and the repair center itself can repair more mobile phones per day.
Why Phone repair near me is an advantage?
This option is one of the favorite options for people, so services such as Phonebulance have got many fans. This type of service is very compatible with today's busy lifestyle because people are looking to spend the least time and energy possible to answer their needs, and what could be better than mobile repair services nearby.
Interestingly, the cost of fixing iPhones near me in Laguna Niguel in such centers isn't very different from other centers run by the phone company itself. In some cases, it may even be cheaper for you.
Phonebulance Fully Loaded Vans Come to You to Repair your Devices
Fix iPhones near me is one of the Phonebulance services. If you need this service, you can provide your contact information to connect with our team. Click here to book an appointment. And you can easily Check our reviews on Yelp.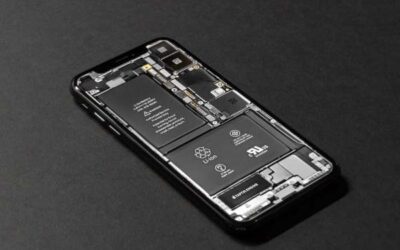 A perennial concern for iPhone users is the issue of battery drain. This comprehensive guide...